Torremolinos Renaissance… from Touristic Icon to Quality Destination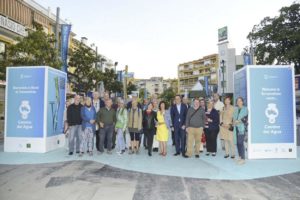 Costa Press Club members have been given a first-hand insight into ambitious town hall plans to revitalise Torremolinos. The Costa del Sol's pioneering tourist destination has suffered from a deteriorating image and infrastructure over the past decade, prompting the mayor José Ortiz and his council team to launch a series of initiatives aimed at reversing its decline, after years of stagnation, and establishing a more dynamic and modernised global brand.
As the mayor frankly admitted to the press club group during a special presentation and tour of the town this month, in many aspects Torremolinos had become "sick" and it "needed to regain its soul". To that end, he said, the council was committed to revamping both the historical and modern areas of the town centre, and bolstering local business, all in synergy with a major commercial centre planned by Intu for the town's outskirts. Ortiz also highlighted the municipality's multicultural diversity, its cultural and sports tourism amenities, and the importance of regenerating the mountain areas to provide "added value to traditional sun and beach options".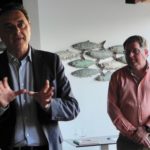 In short, he said, the town hall was determined to regain the "essence of Torremolinos's glorious past".
Responding to José Ortiz's observations, Costa Press Club president Jesper Sander Pedersen later said, "We were left with a very positive impression. Torremolinos is thinking about the present, and especially the future. Some members came with pre-conceived notions that have changed as a result of the visit."
The club president praised Ortiz's sincerity in explaining that the changes could not be undertaken too hastily, but would rather require periods of between five and eight years for their completion. "The mayor answered our questions frankly and gave an assurance that the town hall was not just aiming to boost tourism in general, but also the quality of those visiting the municipality, while ensuring local businesses are protected."
During the guided your, members visited the old town hall premises, which are to be converted into a gourmet market; the Torre Pimentel tower (aka the Torre de los Molinos), which gave its name to the municipality and is due to be opened soon for visits by residents and tourists; and an open-air exhibition, "Camino del Agua", which highlights the importance of water, natural springs and mills in the history of Torremolinos.
Group Photos: Courtesy of Torremolinos Town Hall
Photos mayor and club president; and Torre Pimentel: Herta Fritz
You can share this story by using your social accounts: